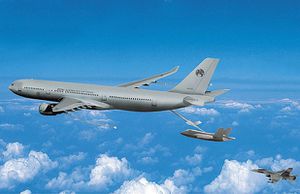 The contract for six copies of the A330 MRTT Airbus should be signed between the Indian government and the current 2013.
The Indian government has finally decided to offer multi-role tanker plane (transport, cargo and medical evacuation) made by Airbus Military to equip its air force.

The decision came after a long process of evaluation and competition.

The A330 MRTT (Multi Role Tanker Transport) including demonstrated during flight testing its ability to supply all types of hunters IAF (Indian Air Force).

Operational tests were also carried out at high altitude, on the basis of Leh.
India joins Australia, Saudi Arabia, the United Arab Emirates and the United States among the foreign customers of the A330 MRTT, multi role tanker aircraft for which Airbus Military booked 28 orders.